YAY!!! We came second! Saturday was great. We need to thank everyone who supported us and helped us to design and build rovers and special thanks to Mike and Tim and all the judges for organising such a fun event and great competition.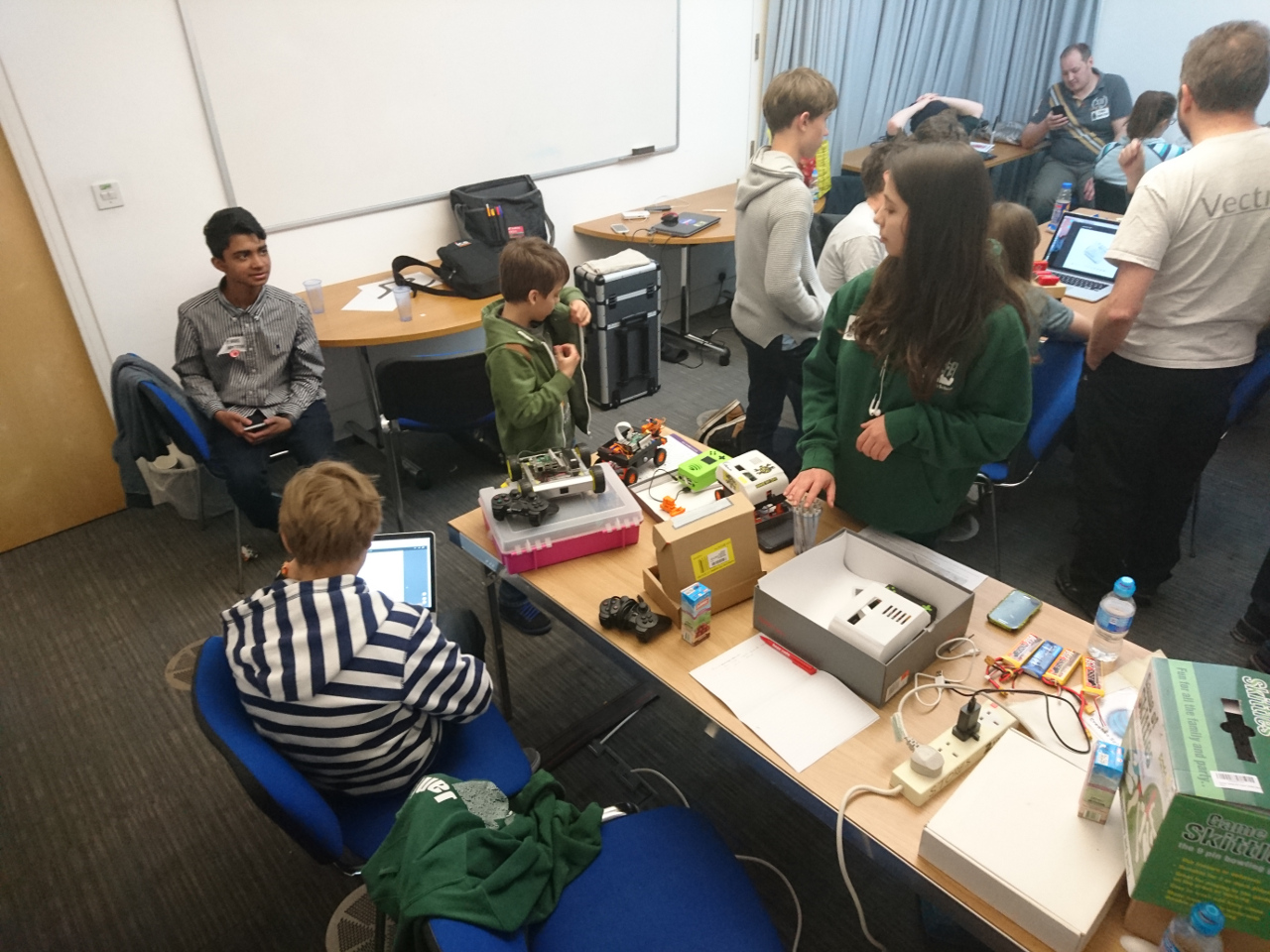 Getting ready for the challenges Also big thank you to our sponsors - Creative Sphere, Vectric and BlackPepper for providing parts for the rovers.
When our name was read out as second place, we were amazed. It was only our first year! Our competition looked very impressive, we knew that some would definitely beat us at some challenges (cough, cough, follow-the-line, aesthetics and funniness, to mention some), but we didn't expect to win some others like minimal maze.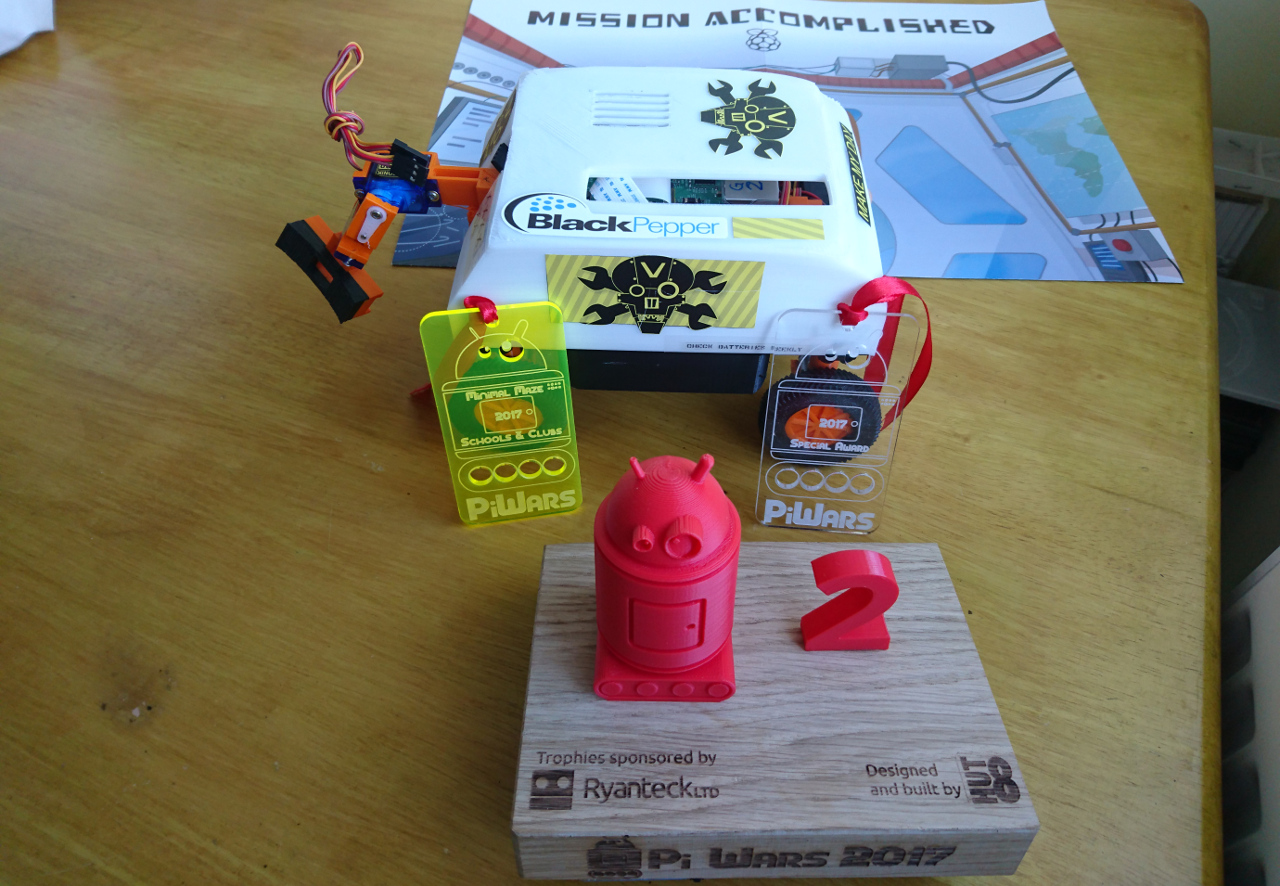 Trophy!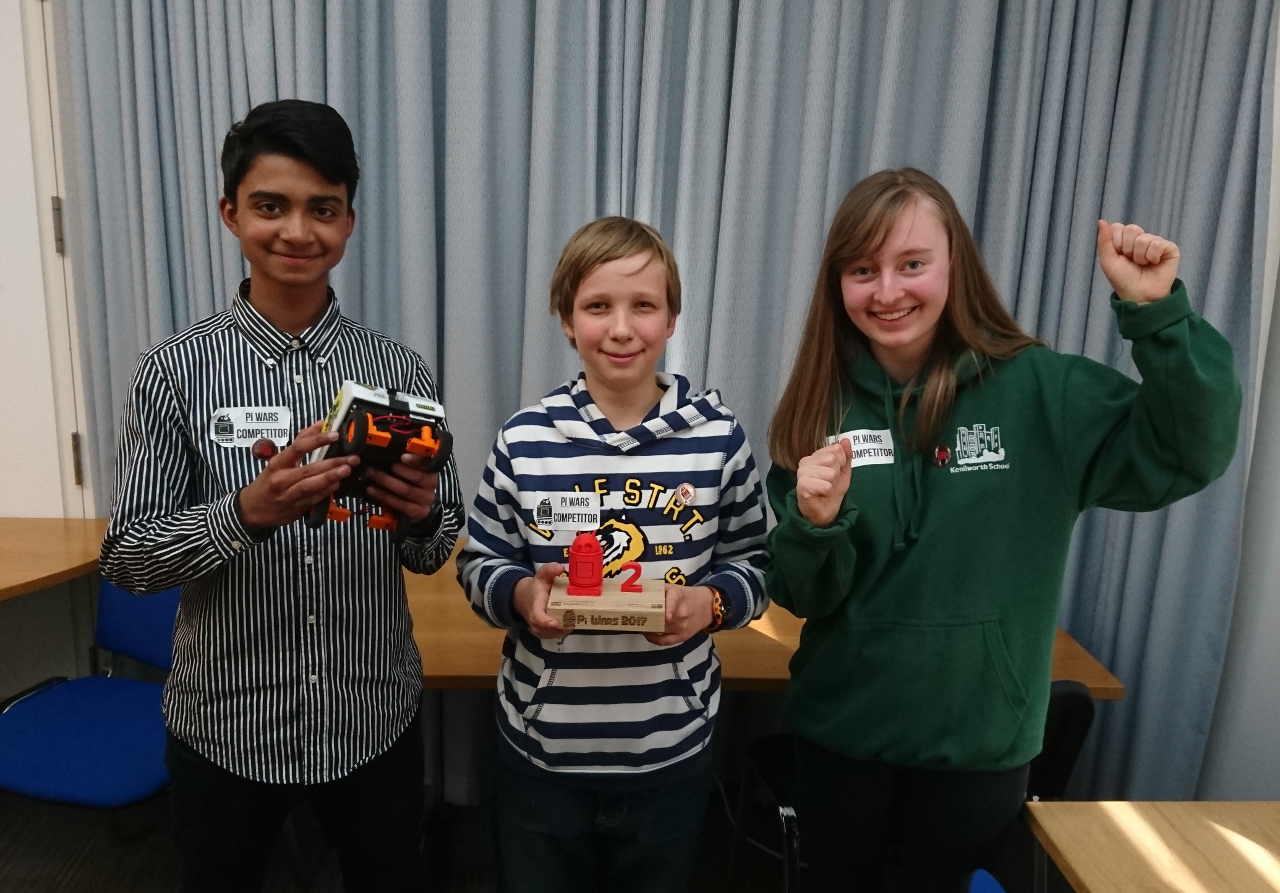 Yeah!
At first we thought that we had no chance at some challenges, but as the day went, we found that some went relatively well. Of course, we didn't manage to complete the follow the line challenge, but that was predicted; we hadn't finished the code. Oh well. Skittles was a total failure - 3 skittles down in the test go but zero points all round. However, we did better than we had thought on the minimal maze (first place!).
After one failed attempt, we completed the maze in a very short time, without a single touch! And all at reduced speed - just in case! Not only that, slightly deranged golf went very well, too. It was a little difficult to control the ball and get it through the windmill, but we manage to come second in that challenge!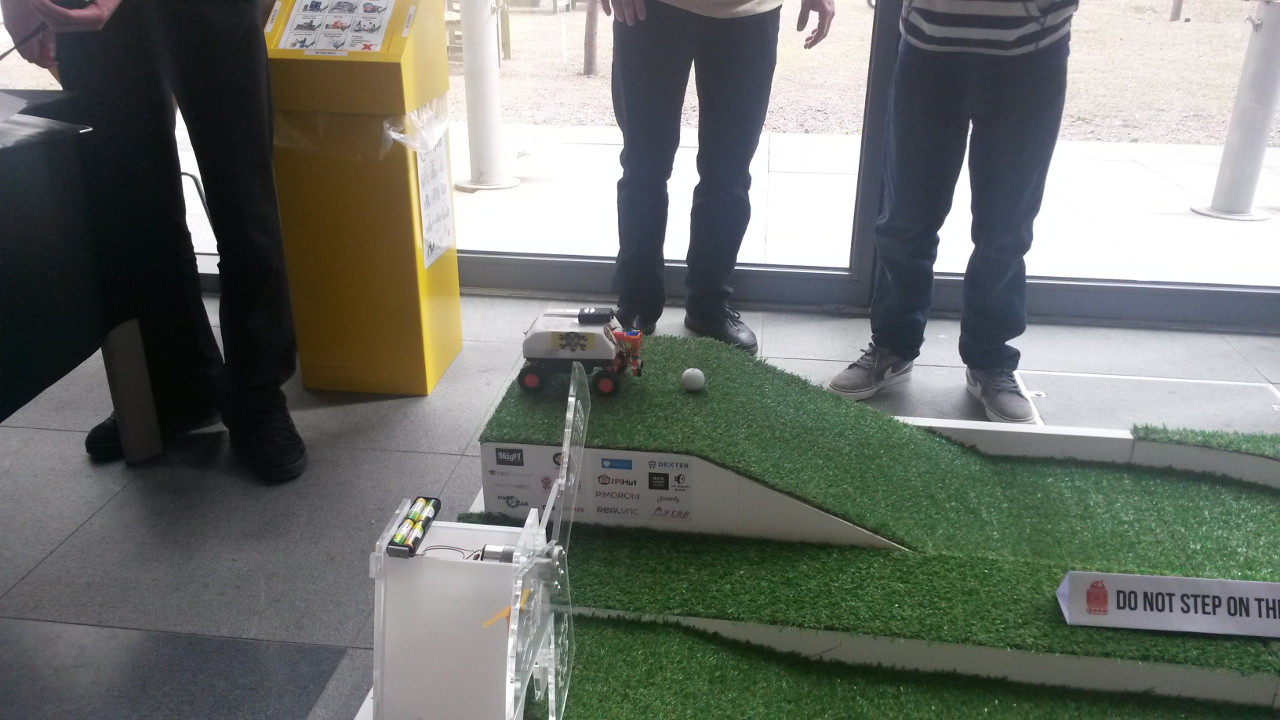 PiNoon was also a great success too, thanks to Janina to get us to quarter finals and Naeem for getting us to the finals. Our success was in the strafe ability, allowing us to dodge the enemy lunges. Unfortunately we were faced by a MUCH larger (and faster) robot in the finals, and technical difficulties (over-saturated 2.4GHz - WiFi band) lead to our defeat. And the worthy opponent, too. Congratulations to the winner - Adams Grammar School! Also, congratulations to the overall winners - ExaBot!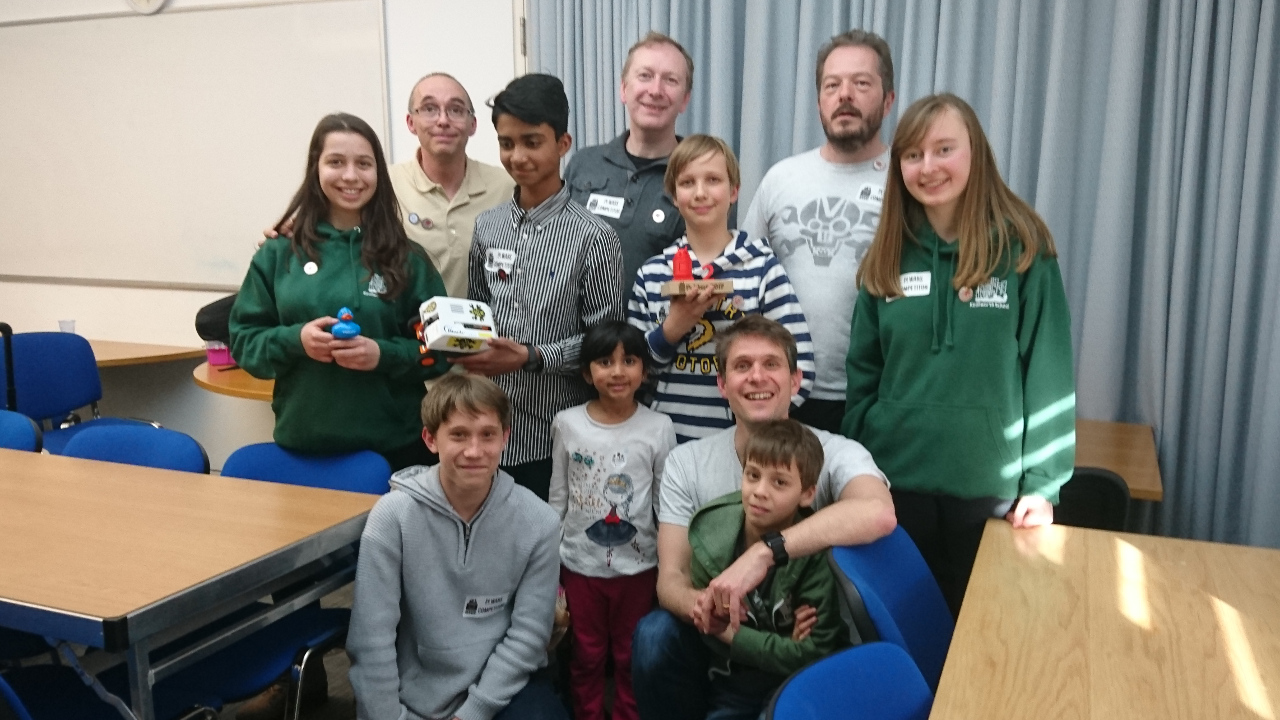 2017 PiWars GCC team
For next year we have planned a bunch of modifications and had a lot of ideas on how we can improve the rover. For instance, starting with hardware: some bigger and faster motors to be able to "Straight-Line Speed Test" our way to victory!
We're really looking forward to next year!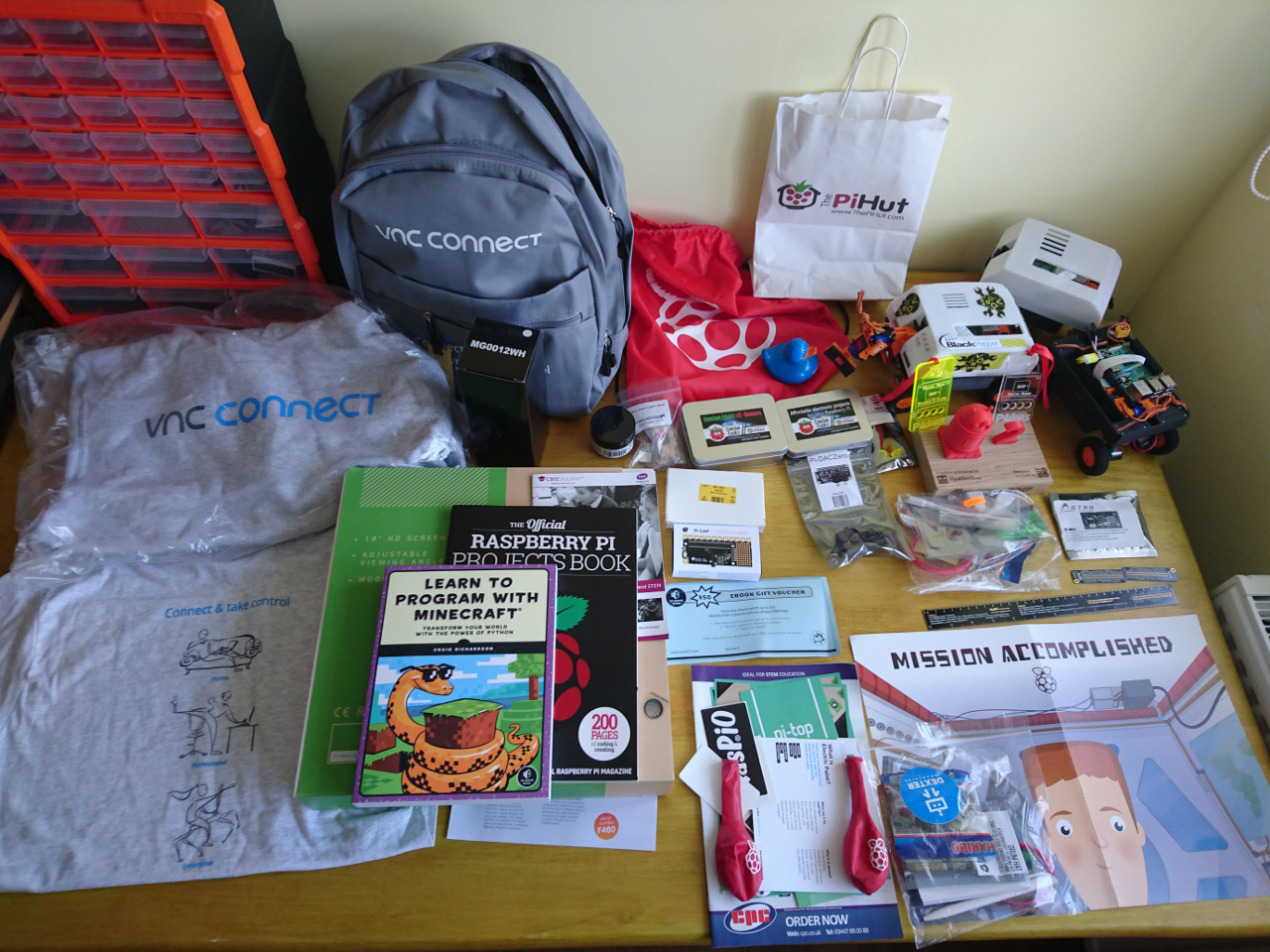 The prizes!